PHOTO: Positioning a pallet in a prep station ready to move to the next.
Along with employing experienced people and using the latest technology, MP&P Inc shows that sometimes it all comes down to the basic use of wire rope and slings to keep customers satisfied.
MP&P Depends on Wire Rope and Slings to Stay Productive
By Al Pirozzoli
Published in the Wire Rope News & Sling Technology February Issue.
Just as the basics, like a foul shot or a field goal, often win championships, slings and wire rope make all the difference in roll surface repair success. MP&P depends on slings to lift and move multi-ton industrial rolls through the service stages in its plant. Regardless of the latest technology and highly experienced people, without wire rope and slings, their cranes lie dormant and customers wouldn't get their critical repairs done. Sports, life and business really all depend on applying the critical basics!
Founded in 1954, MP&P Inc. in Waterbury, CT is a complete, single-source roll fabricating, plating, grinding and surface finishing company known world-wide for excellence and reliability for over 60 years. In order to service a variety of industry rolls, many weighing multiple tons, the company uses two overhead cranes to keep production moving efficiently through each stage of work. Industrial rolls are used in many industries and in a variety of ways:
Industrial and paper mill.
Double and single shell heat transfer rolls.
Drum dryers.
Calendaring.
Coating.
Embossing.
Laminating rolls and cylinders.
In order to conduct roll repairs and fabrication, these multi-ton rolls must be moved from station to station. Meeting their commitment to excellence means paying attention to details — details such as checking for undetected flaws when a roll comes in, performing quality testing throughout the process and keeping the engineering people involved when decisions need to be made.
EXPERTISE AND ENGINEERING RESTS ON ONE BASIC FACTOR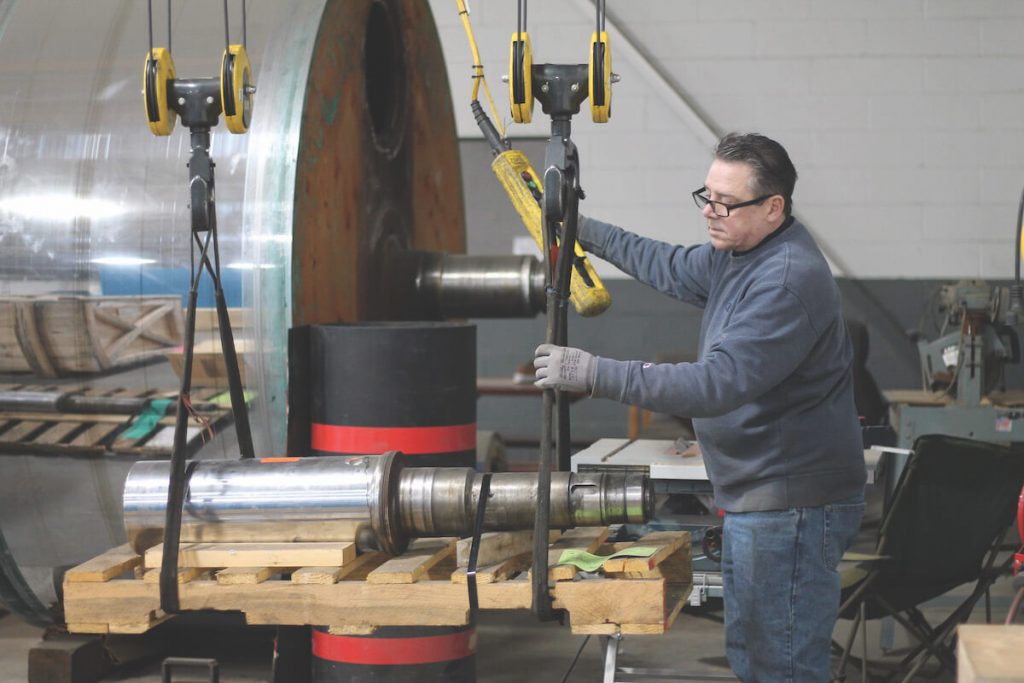 All the company's expertise is required to complete service on an industrial roll, but it all rests on the seemingly most elementary factor: slings and wire rope. These industrial rolls can't move themselves nor can the workers just roll them around the plant floor. It would be like having a few workers trying to push an elephant across the plant floor. Cranes and various lifts must do the job. Safe lifting requires some type of rigging between the crane hook and load and that's where the right choice of wire rope, or sling is critical. As in any industry, wire rope, slings, wire rope slings, synthetic slings, chain slings and more, have gone through changes in type, design, and material. "Proper rigging can make or break lifting and moving an industrial roll," said Stephen Nalband, who oversees sales and marketing.
SELECTING WIRE ROPE AND SLINGS
When the crane operator or the safety coordinator determines that a sling needs to be replaced the MP&P purchasing department deals with ordering products and equipment. When a sling or wire rope replacement order needs to be placed for these items, purchasing receives a requisition from the general manager. Purchasing then issues a PO to their supplier. Wire rope and slings are clearly an important piece of rigging hardware used on the plant floor at MP&P. Hoisting operations find that wire rope and slings are widely preferred for heavy roll lifting. The various weights of the rolls being lifted determines what type of sling is used. Crane operators and the safety team conduct daily sling quality inspections and once a year so does the manufacturer. Slings must be visually inspected before each use. Slings with excessive broken wires, severe corrosion, localized wear, damage to end-fittings are removed from use. Typically, the slings used at MP&P last about 3 years. MP&P's overhead cranes carry a 20-ton capacity.
SELECTION IS KEY
Correctly selecting the proper wire rope and sling is of the utmost diligence. If rolls are too heavy for the slings that support them, the result can be disastrous. Rolls could drop and be damaged, workers could be injured if a roll falls on them, other equipment in the plant could be damaged by a sling that gives way. "Slings connect the roll to the lifting equipment, and we work with a wide range of configurations that support a broad range of applications as the roll moves through the plant. Our slings are constructed in single, double, triple and quadruple leg configurations. Wire rope slings can also be braided to make them more flexible to handle more capacity by increasing the diameter of the sling. We make sure that our selections are the best fit for the operations at hand," added Stephen.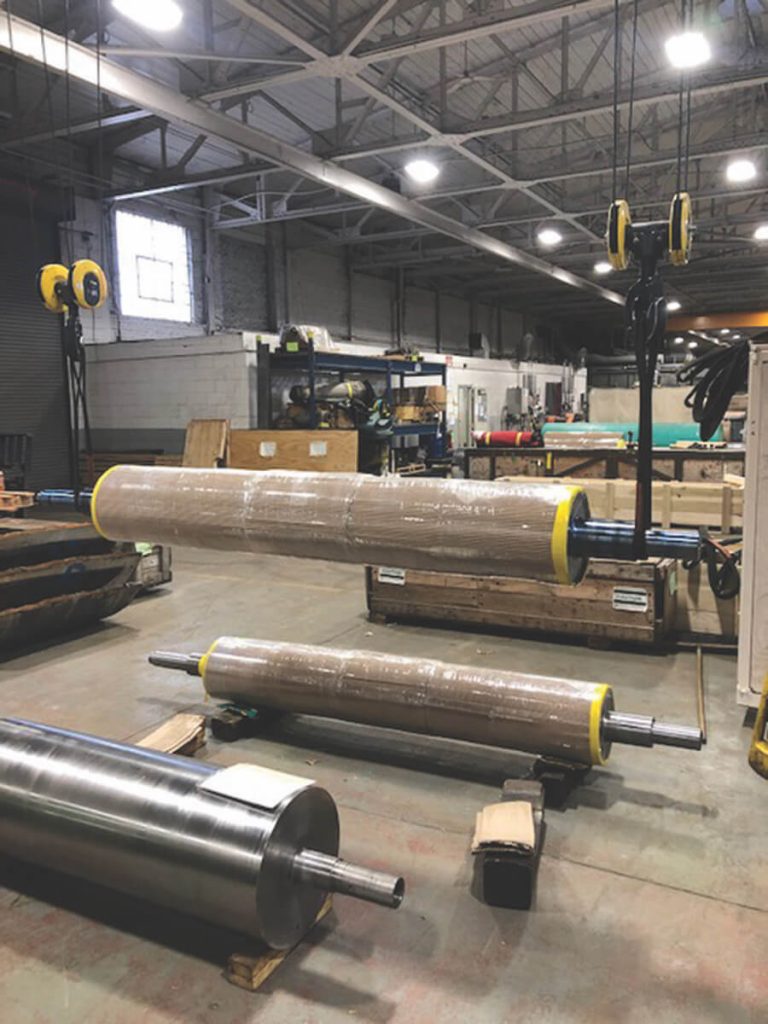 MP&P APPLIES A VARIETY OF RIGGING
Every lifting operation uses some form of hitches. Vertical, or straight, attachment connects a lifting hook or other configuration to the roll. Choker hitches are used to reduce the lifting capacity of a sling. Basket hitches are best suited to distribute a load equally between the two legs of a sling, within limitations imposed by the angles at which legs are rigged to the load. In order to lift a roll and keep it level, the hook must be directly over the center of gravity of the roll. Therefore, loading the roll properly will balance the load and as importantly, reduce rotation. Various types of slings have their own unique characteristics so selecting the type and configuration is based on the type of roll and its weight.
WHEN SIZE REALLY DOES MATTER
Wire rope slings are an important rigging component in most manufacturing industries. MP&P's work requires mostly all heavy duty lifting and shifting of heavy industrial rolls. The rolls they service vary in width, length, and diameter. Some of these rolls are close to the size of a bus while others the size of a 55-gallon drum. In either case they are far too heavy to be lifted and moved by workers.
The proper selection of wire rope slings depends on the service application required by the roll. MP&P uses slings in a wide range of activities from lifting a single heavy roll to the movement of related materials. With that in mind there's no wonder that they pay close attention to the basics of sling and wire rope in their cranes and lift equipment.
They must be able to withstand the plant's environment.
They need to be strong and durable to be connected to the rolls appropriately.
They must be selected to match the load weight properly.
They must be high quality to sustain multiple uses.
They are an important part of every rigging operation.
They must be maintained and inspected regularly.
They must be positioned directly over the center of gravity of the roll.
It's clear that MP&P addresses more than the actual surface repair of a roll. They are experts in material handling safety and efficiency. Many of the rolls they service must be handled quickly when the customer is essentially not able to keep production moving because their roll is being serviced. Without wire rope and slings, the ability to handle these rolls would be at the very least, greatly hampered, moving at a snail's pace. Customers would then lose productivity and revenues. Even important instruments, tools, and materials could not be moved or utilized without these basics. Every component plays a vital role in running their business. Diligence, experience and commitment has kept MP&P on a roll since 1954.
IT'S ALL ABOUT WLL
Industrial slings are comprised of various materials such as alloy steel chain, synthetic webbing wire rope, natural fiber rope, metal mesh, synthetic fiber rope, synthetic round slings, webbing, fabric, or cabling. Slings typically work in conjunction with lift equipment or cranes. Slings help offset the problem of load balance. Slings cannot do the job alone, they require some type of hook, shackle, link, ring, or other devises. MP&P makes decisions on sling types dependent upon Working Load Limit (WLL), that properly fits the application required. Unlike socks, there's no such thing as one size fits all. MP&P personnel must ensure that the roll weight does not exceed the safety of WLL. Sling breakage is far too dangerous to workers, equipment, and the customer's rolls, for guess work.
THE DETAIL OF THE DETAILS
At MP&P the process of servicing industrial rolls requires superb knowledge, experience, technology, and expertly seasoned professionals. Yet, they understand the vital importance of all the detailed equipment and instruments that allow all that expertise to be applied. The fundamentals are never overlooked because it can make or break any roll servicing process. The details regarding rigging are no small matter. Not intended to be exhaustive, here are only a few of the details required when MP&P personnel are working with slings and lift equipment.
It is essential to determine the proper style, size, length, diameter, and thickness of the sling needed for the application prior to use.
Proper determination of sling strength, WLL.
Assure the roll is securely rigged.
Secure safety latches to hooks.
Assess the center of gravity for the roll lift.
Assure there are no kinks or damage in the sling.
Compensate for service conditions.
Work within the limits of load specifications.
Attach tag lines prior to lifting to support control.
Stay clear of sharp edges and surfaces.
Move the lift slowly to avoid sway.
Caution with personnel location.
THOROUGH INSPECTIONS
MP&P personnel make a thorough, ongoing inspection of slings and attachments. Items they look for include:
Missing or illegible sling identification.
Acid or caustic burns.
Melting or charring of any part of the sling.
Holes, tears, cuts, or snags.
Broken or worn stitching in load bearing splices.
Excessive abrasive wear.
Knots in any part of the sling.
Discoloration and brittle or stiff areas on any part of the sling.
Pitted, corroded, cracked, bent, twisted, gouged, or broken fittings.
Other conditions that cause doubt as to continued use of a sling.
RIGHT UP TO THE EXIT DOORS
When a customer's roll is completely serviced, once again, not much happens to get it back to the customer without cranes and slings. The MP&P shipping department handles receiving, logging and scheduling rolls into their process efficiently and productively. Wasted steps and miscommunication can be problems in a shipping department, whether it's a roll incoming or outgoing. MP&P places as much detail and attention into the handling of rolls in and out as with every other aspect of the roll finishing process. The receiving process is well thought out. A truck delivers the roll. It's then unloaded and removed from the crate. Slings are affixed on the roll journals and moved to inspection. Here the roll's journals are reviewed for any defects and other vital areas of the roll including any possible rust spots. The entire roll is measured out to check the roll diameter from end to end.
The data is then documented with a work plan for handling the needs of the roll. Once the roll is documented, slings are affixed, and the roll begins the process of moving from station to station for service work. Once the roll is ready to send back, the crane loads the roll onto any number of truck configurations: Flatbed, Conestoga, Box Van, Step-Deck, Low-Boy and Gooseneck. The ability to safely move materials from one location to another is a vital part of operations.
At MP&P rigging loads is a pre-planned action. There is simply no way to make corrections when a multi-ton industrial roll is being lifted and moved. If the sling is not rigged properly to the roll it may become damaged. Working with slings requires detail, attention and knowledge to keep rolls moving through the plant efficiently and getting them returned to the customer to be placed back in operation. At MP&P, slings are what move productivity, and in greater measure, an entire industry.