PHOTO: DoNova® PowerLift Lifting Sling and PowerLash Textile Lashing Chains are lighter, stronger by weight, more durable, less damaging, safer, environmentally friendly, nonconductive, waterproof, quieter, and similarly adjustable.
Textile chain technology is changing the way professionals approach lifting and lashing tasks.
The Textile Chain Revolution Has Begun
by Rick Ashley
Published in Wire Rope News & Sling Technology February issue.
Textile chain technology is changing the way professionals approach lifting and lashing tasks, making things easier on both people and machines.
Heavy Metal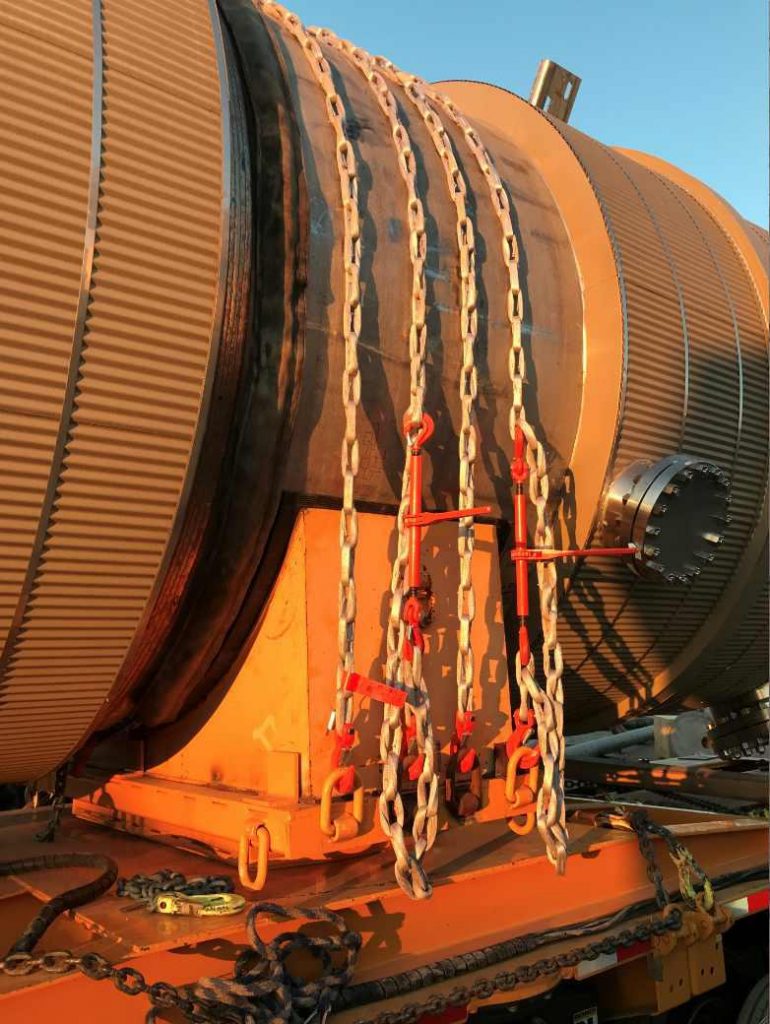 For those whose job it is to lift or lash heavy objects, steel chains are a ubiquitous part of life. Effective though they are, metal chains are heavy and unwieldy at best, and under certain circumstances, can even cause injuries.
On its own, Grade 100 steel chain can weigh in at 85 pounds for just one 30-foot segment. Add load binders to the equation and you're looking at just under 100 pounds, and many segments may be needed on any given lifting or lashing assignment.
"Just moving steel chain into position is a difficult, time-consuming and labor-intensive job," said Paul Foret, director of sales and marketing for Louisiana-based Arabi Sling and Rigging, Co. Inc. "And that's before the actual lifting and lashing activity even begins."
Foret asserts that steel chains have stood the test of time, but that time might be running out for this venerable tool. "Metal chains are an ancient technology, Foret muses, "Right up there with the wheel."
Foret suggests that regardless of the advancements in metals and chain engineering, the primary disadvantages of metal chains remain. He insists that their weight, their abrasive characteristics and how cumbersome they are to handle, makes steel chains vulnerable to competing new technologies and, downright obsolete for many of today's lifting and lashing operations.
A Quantum Leap
In 2016, the first viable replacement for steel chains was introduced. The product was chainlike in appearance, but with one very big difference, it was made of a unique new textile, called Dyneema® fiber.
DSM is the inventor and manufacturer of the ultra-high-molecular-weight polyethylene (UHMWPE) fiber, which is marketed under the brand name Dyneema®, the world's strongest fiber™.
The textile chain offered numerous advantages and was positioned as not only an alternative to steel chain and wire rope slings, but as "the lifting chain of the future". News releases at the time touted it as lighter, stronger by weight, more durable, less damaging, safer, environmentally friendly, non-conductive, waterproof, quieter, and similarly adjustable.
"I remember seeing the new textile chain for the first time," Foret said. "It was one of those 'why didn't someone think of this before' moments, and I knew it was going to be a gamechanger."
Hardware vs. Software
One of the first companies to process the fibers into the form of a textile chain was Dolezych GmbH & Co. KG, known in the United States as Doleco® USA. The multinational, family-owned company, headquartered in Dortmund, Germany, was founded 86 years ago and is one of the world's leading experts in load handling solutions such as textile, wire rope and chain lifting slings, special lifting appliances and load securing.
For more than 50 years, Doleco® has been a pioneer in textile lifting and lashing technology and owns numerous patents in this field. Unlike other textile chain suppliers, that had backgrounds in hardware manufacturing, and that had to outsource the making of their textile chains, Doleco® used its vast textile experience to engineer, test and manufacture its own textile chains. The results were a broader array of chains and superior load rating characteristics.
The Doleco® textile chains were put through their paces by users in a test phase lasting six months and proved to be outstanding under real-world operating conditions. Products with the widest variety of chain lengths, hooks and tensioner elements were all used in association with the rigorous testing protocols.
Even the short chains Doleco® tested were found to offer enormous weight and handling advantages. Above all, the particularly long lashing chains with a usable length of 6 meters or more showed that the extremely light and cut-resistant Dyneema® fiber was simply unbeatable for some applications. Even with chain lengths of 20 meters and more it was possible for just one person to secure the load quickly and effortlessly.
"The principle of the revolutionary DoNova® PowerLift Lifting Sling and PowerLash Textile Lashing Chain and Tie Down System was both simple and clever, and it really got people's attention," said Ralph Abato, president and managing director of Doleco® USA. "The chains are manufactured completely from webbing made of Dyneema®. Several layers of the fabric are wound and sewn to form chain links.
Abato explained that the textile chains can be produced in any length and can be combined with specially developed chain hooks, high-strength shackles and special tensioner elements. He notes that the result is easily comparable with the breaking load and durability of chains made of high-strength steel.
"Dyneema® material is 15 times stronger than steel by weight, and made into chain, up to 85 percent lighter, so lightweight, in fact, that it floats on water," Abato said.
DoNova® PowerLift Lifting Slings and PowerLash Textile Lashing Chains have extremely low moisture absorption, are self-lubricating, are highly resistant to corrosive chemicals, and are 15 percent more resistant to abrasion than carbon steel.
DoNova® PowerLift Lifting Slings are available with a working load limit (WLL) as high as 17,636 pounds, more than that of the 15,000-pound capacity of a one-half-inch diameter, single-leg steel chain sling. DoNova® PowerLash Textile Lashing Chains are available with a WLL as high as 44,000 pounds, more than that of half-inch, Grade 70 steel transport chain with a WLL of just 11,300 pounds.
A Problem Looking for A Solution
It used to take one company and its workers a lot of time and effort to secure their cargo to their trailers. However, in their case, this wasn't just any cargo, and these weren't just any trailers.
"We use a different amount of chain for each load depending on the load weight and available securement points," says Ace Carter, Engineer for Northwest Logistics Heavy Haul, an Oklahoma-based heavy-haul service provider doing business throughout the U.S. and Canada. "A theoretical load requiring 14, 30-foot, half-inch Grade 100 steel chains and binders with a 15,000-pound WLL, would add up to about 1,372 pounds of securement, and simply deploying this is a long and strenuous task for even a two-man crew.
After chains are distributed around a trailer and its cargo, the work of load securement begins. There are engineered anchor points designed into some cargo items allowing for "direct" securement. Cargo without predetermined anchoring locations, require securement devices to pass through, over and around the freightage in order to fasten it to the trailer using the "indirect" securement method.
"On larger loads like tanks, a team of two would generally be used to secure the load, Carter said. "One person usually throws a guide rope, attached to the chain, over the tank to a second person on the opposite side of the trailer, who then pulls the chain up and over the vessel as the first helps guide it. Either way, steel chains take time to set and secure and it's physically demanding work."
In addition to being heavy, steel chains are by their nature, very abrasive. Northwest was in the habit of using carpet, rubber, fire hose and other liners to protect the finish or their cargo from being scraped and marred by the chain. Applying the protection often required climbing ladders and the use of manlifts or forklift baskets. The company also had to buy, transport, store, and maintain the protective materials. Regardless of the extra cost and effort, the company did what it took to protect its cargo and to avoid customer dissatisfaction.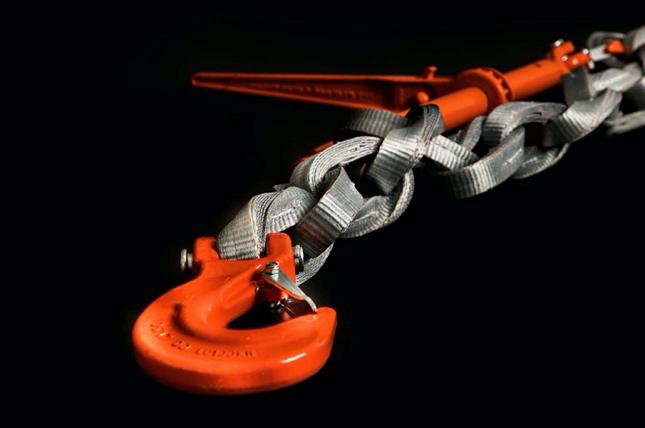 Problem Solved
Carter and Northwest met with Doleco® USA in 2018 and began experimenting with the DoNova® textile chain. Doleco realized that if Northwest adopted the use of its textile chains, it could not only have a significant impact on the use of steel chains in the heavy-haul business, but on the entire lifting and lashing industry.
Since the DoNova® PowerLash Textile Lashing Chain in the same 30-foot lengths weighed 85 percent less than the half-inch steel chains they would replace, Northwest's crews needed only 10 DoNova® PowerLash Tiedowns to do the job of 14 steel chains. Coupled with other tangible benefits, Northwest decided to give the DoNova® product a try.
"Carrying the lightweight DoNova® chains from their storage location on the truck or support vehicle to every point of securement on the trailer now requires much less effort. Less weight means easier handling, less fatigue and a lower potential for injury," Carter said. "It is safe to say that the workers love the product."
Carter noted that now his folks can toss the guide rope over and pull the lightweight DoNova® PowerLash Textile Lashing Chain over a tank and secure both sides, without worrying about scratching the tank's finish. He believes that DoNova® chains save time and effort while reducing worker fatigue and risk of injury.
"Time savings is likely less significant than weight savings and increased capacity," Carter said.
"Now we have less effort required for securement, less risk of personal injury, less gross weight to haul and permit, fewer securement devices required on some loads, and the 10-metric-ton-capacity matches securement points on many of our European trailers."
Binding Agreement
Special load binders have also been developed for the DoNova® PowerLash Textile Lashing Chain. At just three quarters as long as a standard load binder, the DoRa® Ratcheting Load Binder fits into tighter spaces, but expands to enable users to reach twice as far as any other. The compact size and extra length of the DoRa® saves users time and trouble, because they don't have to detach and reattach chains when periodically retensioning cargo.
"Doleco®'s DoRa® Ratcheting Load Binder is 20 percent shorter than others, extends to twice their length and makes chain retensioning a breeze. Abato said. "The patented spindle-in-a-spindle design of the DoRa® Ratcheting Load Binder saves time, giving users unrivaled tensioning capabilities when securing cargo with steel chains, but is designed specifically to work as a system with Doleco®USA's DoNova® PowerLash Textile Lashing Chain.
With its WLL of 22,000 pounds, the DoNova® PowerLash 25/8 may be used with the lashing strap as a tensioning element. Doleco® USA's Heavy Duty 2-inch Ratchet with Gear Drive, webbing made with Dyneema®, features special eye-hooks and coupling links can substitute for standard load binders, and gives the load securement system an increased tensioning range at a reduced weight. The WLL of the tensioning elements employed (straight pull or loop) are easily matched to the WLL of the textile chain and hooks effortlessly into their respective chain elements.
DoNova® can also be used as a head sling. If a load has no fastening points, it can be secured with a sling that runs over and/or around the cargo. This indirect lashing method allows even the most unwieldy load to be brought under control.
"The DoNova® PowerLash head sling not only secures voluminous loads without lashing points, it also functions as a headboard substitute for loads that can't be placed against the actual headboard of the vehicle," Abato said. "DoNova® can be guided around the load flexibly and tensioned with lashing straps that are hooked directly to the chain links."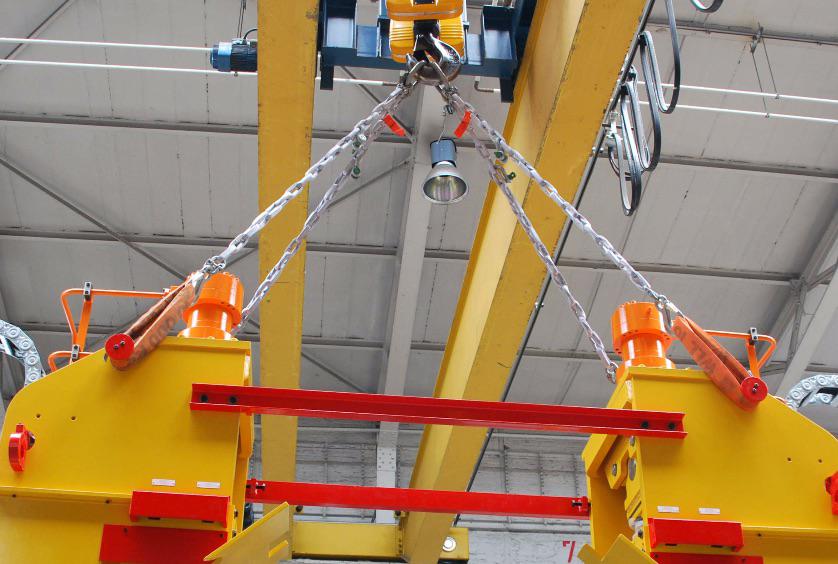 Steel Blues
Doleco® USA's textile chain is a technological advancement at the right place at the right time and will change the way the lifting and lashing industry looks at steel chain. The difference between steel chains and the DoNova® PowerLift Lifting Slings and PowerLash Textile Lashing Chains couldn't be more profound.
"We researched textile chain suppliers for one of our aerospace customers," said Tammy Rhoads, national sales manager for Arabi Sling and Rigging, Co. Inc. "We discovered that not only is Doleco® the only company that manufactures its own textile chain, they also have the widest array of chains to choose from and the highest WLL capacities of any textile chains on the market."
Arabi Sling and Rigging's Foret and Rhoads both agree that it was Doleco® USA's wide selection and performance advantages that made the company decide to become a Doleco® USA distributer.
"I can hardly wait for the pandemic to end, so I can let customers hold a steel chain in one bare hand and compare it to a DoNova® Textile Chain in the other," said Rhoads. "The simple reality is — there is no comparison!"
Find out more about
Doleco® USA, DoNova® PowerLift Lifting Sling and PowerLash Textile Lashing Chain and Tie Down System, visit www.doleco-usa.com