June 2021 – Wire Rope News & Sling Technology Magazine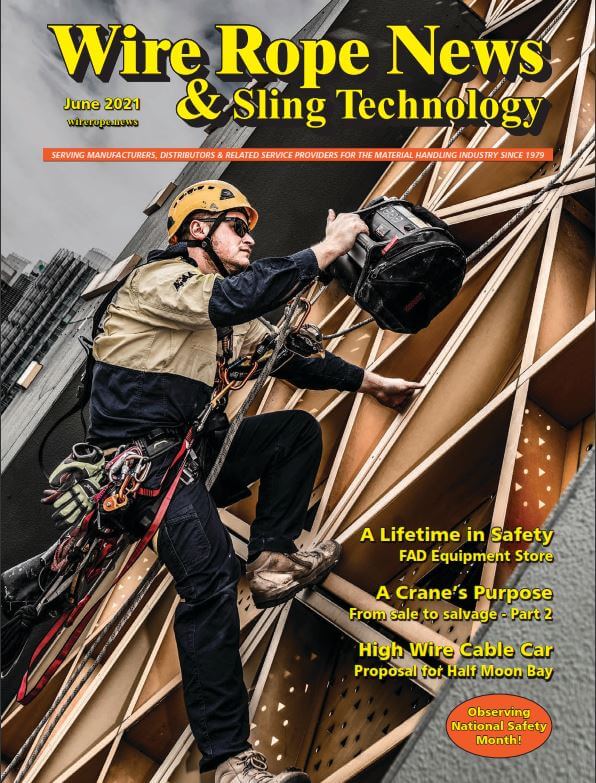 COVER PHOTO: One of the overlooked hazards associated with working at height is dropped tools. That's why FAD Equipment Store has put drop prevention solutions at the heart of its material handling and safety catalog. More in the article on page 8. Photo: curtesy of FAD Equipment
The June 2021 issue of Wire Rope News magazine should have arrived! If you're not receiving it in the mail, subscribe!
Featured Articles:
A Lifetime of Safety
Article by David Ayling. The author explains his passion for lifting products and technology and how the main goal is to improve safety for the end user.
A Crane's Purpose PART 2
Article by Dennis O'Rourke. We continue our journey through the lifecycle of the big machines that have the simple, yet essential, task of lifting and moving..
High Wire at Half Moon Bay
Article by Peter von Bleichert. To alleviate the ever-growing inconvenience of rush hour traffic, more cities are proposing aerial cableways for commuters.
Quality Systems & Procedures for Product Litigation Defense
Article by Don L. Pellow. Advice on preventing lawsuits that are all too common in today's lifting world.
DEPARTMENTS
News in Our Industry
Industry at a Glance
Denny's Crane & Rigging Notes
Inventor's Corner
Products in the News
People in the News
Endnotes from the Editor
Puzzle Page: Word Search and Crossword Puzzle
Classified Ads
Articles and news from past issues are posted in our blog, Facebook, and LinkedIn.