October 2022 – Wire Rope News & Sling Technology Magazine
COVER PHOTO: Vessels and cranes at the Port of Oakland container terminal in Oakland, California (photo credit Cineviv pictures)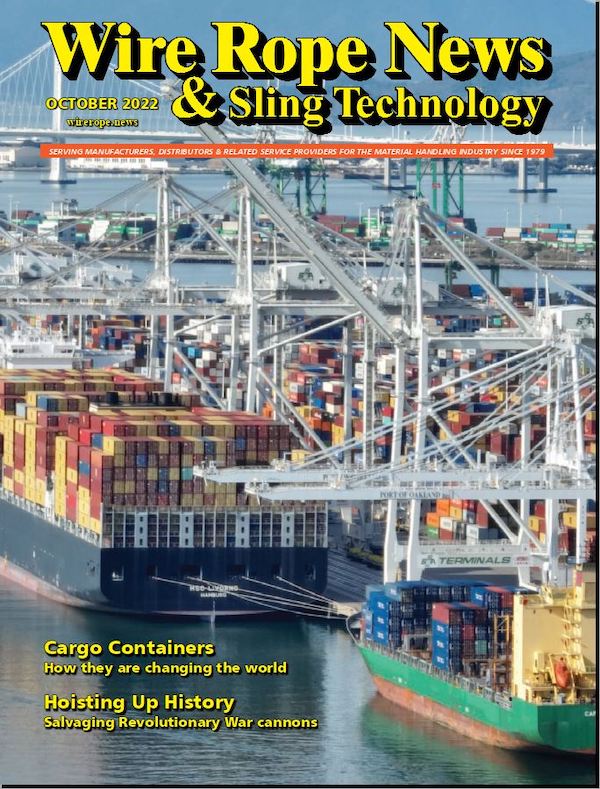 The October 2022 issue of Wire Rope News magazine should have arrived! If you're not receiving it in the mail, subscribe!
Featured Articles:
Cargo Containers: World Changing! Part 1
Article by Dennis J. O'Rourke
Few are unaware of the global movement of people and goods provided by airplane and the shipping container. Most know of Orville and Wilbur Wright's contribution; we highlight Malcom McLean's role in world transportation on the pages of this article.
Latest Lifting Technology Interprets History
Article by Peter Hildebrandt. The Savannah River in Georgia recently gave up a few of it's long lost treasures from the Revolutionary War. Many artifacts, including several cannons, were salvaged for our historical records, all due to the efforts of the United States Army Corps of Engineers.
New Risks in Workers' Compensation
Article by Phillip M. Perry. Legislation is being introduced that covers a wider range of conditions that can be covered by workers' compensation claims. Companies are finding ways to cope with the new regulations.
DEPARTMENTS
News in Our Industry
Company Spotlight: Patterson Davit Cranes
Denny's Crane & Rigging Notes: Edn Fittings Done Wrong!
Inventor's Corner:

Swageless Cable Terminal
Winch Mounted to Portable Hoist
Arrangement in an Elevator for Stopping Uncontrolled Movement of the Elevator Car
Lifting Table
Environmentally Friendly Lubricating Grease for Steel Ropes
Low-Power Wire Rope Safety Diagnosis Method and System

Products in the News
People in the News from Taulrit, YOKE, Dellner, and DICA. (page 67 and 68 in magazine)
Puzzle Page: Word Search and Crossword Puzzle
Classified Ads
Articles and news from past issues are posted on our blog, Facebook, and LinkedIn.