June 2023 – Wire Rope News & Sling Technology Magazine
COVER PHOTO: An Ironworker and many others frequent the danger zones near cranes. Records show they are hurt on a 10 to 1 ratio compared to others on a job site. Work rules and the red danger tape circling the crane are for their safety! photograph by Dennis O'Rourke – see article "Better Crane Lesson Plans Will Make Us Safer?"
The June 2023 issue of Wire Rope News magazine should have arrived! If you're not receiving it in the mail, subscribe!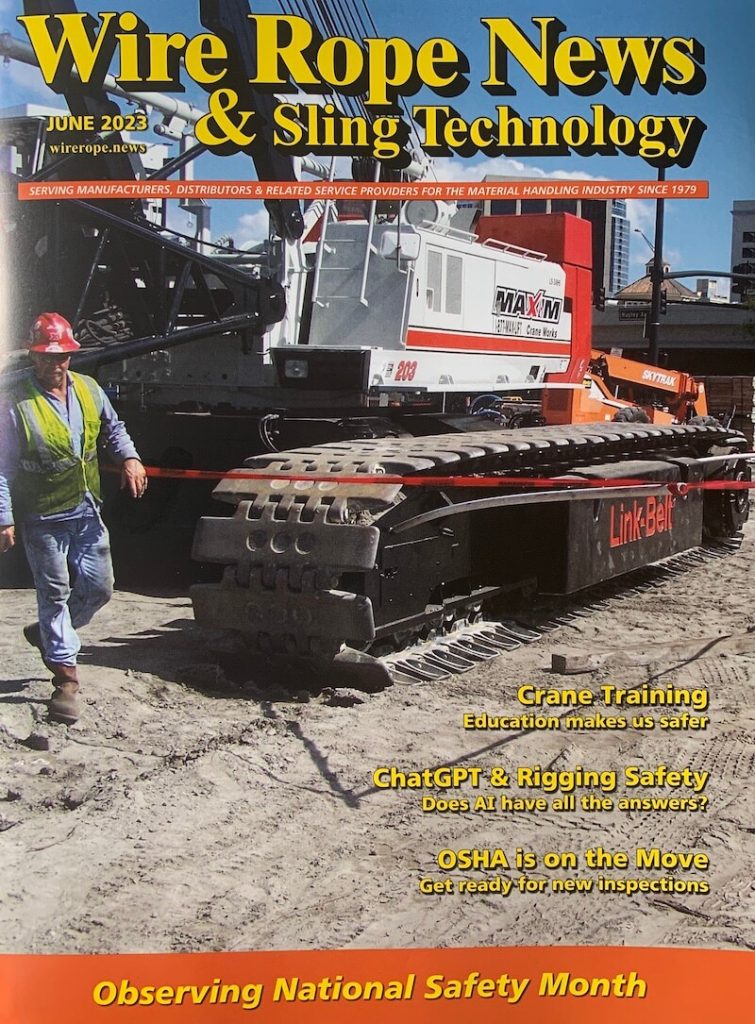 Featured Articles:
Better Crane Lesson Plans Will Make Us Safer?
Article by Dennis J. O'Rourke, CSP, Historiographer, OSHA Part 1919 Maritime Surveyor
Cranes are getting bigger, loads are getting more demanding, and controls are more advanced. Training has become more crucial than ever.
Practice improves performance. What motivated me to write this story was an article in a national crane trade magazine about training programs requiring changes in the lesson plans and methods due to the evolution o the crane, titled: "It's not your daddy's crane anymore". This is correct, but changes in the size/capacities and the drive/control systems caused the increase in accident costs and jury awards, prompting that magazine article to argue for a change! (read the full article in the magazine)
Crane and Rigging Safety vs. Open AI ChatGPT
Article by Dennis J. O'Rourke.
The controversy over AI technology is heating up. Some believe it's the next best thing, while others see it as an imposing danger. The next phase of innovation may prove one site was right.
This article reminded me of an old joke. A jungle explorer climbs a tall tree to see where his troop is going and shouts, "We're going the wrong way!" the answer was never min: "But we're making good progress!" The race to the unknown is speeding up! Congress recently heard testimony that AI technology, now in its fourth level and levels five and six, and now ready for release – thinking for itself. (read the full article in the magazine)
OSHA Ramps Up Inspections
Article by Phillip M. Perry
Safety regulation enforcement by OSHA is being taken to the next level. This article gives some pointers on how to stay ahead of it.
OSHA is stepping up its enforcement of safety regulations, performing more workplace inspections and levying higher penalties for noncompliance. Employers need to take a fresh look at their workplaces, establish safe procedures and ensure adequate levels of oversight. Supervisors play a critical role in reinforcing a company-wide safety culture. (read the full article in the magazine)
Is Hiring a Consultant Better Than an Employee?
Article by Richard Phillips, CP&A
Engineering design services are in high demand. Casper, Phillips & Associates takes on the challenge.
Casper, Phillips & Associates (CP&A), based in Tacoma, USA, has seen a rise in demand for its engineering design services, leading to the conclusion that companies have decided that it is better to hire a consultant rather than taking on an employee, and is looking further at the benefits of this. (read the full article in the magazine)
Selecting the Right Lever Hoist
Article by Peter Cooke
The right tool for the job has always been good advice. Lifting heavy objects is no exception.
Whether it's on a construction site, on a utility truck, in a mine, or on a railroad, the need to lift, pull, or brace something heavy and dangerous will always arise. (read the full article in the magazine)
DEPARTMENTS
News in Our Industry
Denny's Crane & Rigging Notes – Boom Hoistng and Luffing
Inventor's Corner:

Cable pusher and related methods
Damage detection method of wire rope, and signal processor and damage detection device used for damage detection of wire rope
Internally damped crossbar assembly having wire rope isolator
System for lubricating cables or the like
Apparatus and method for installing wire behind existing walls
Wire rope barrier

Industry at a Glance – Practice Ladder Safety All Year Long
Products in the News
People in the News
Puzzle Page: Word Search and Crossword Puzzle
Classified Ads
Articles and news from past issues are posted on our blog, Facebook, and LinkedIn.