February 2021 – Wire Rope News & Sling Technology Magazine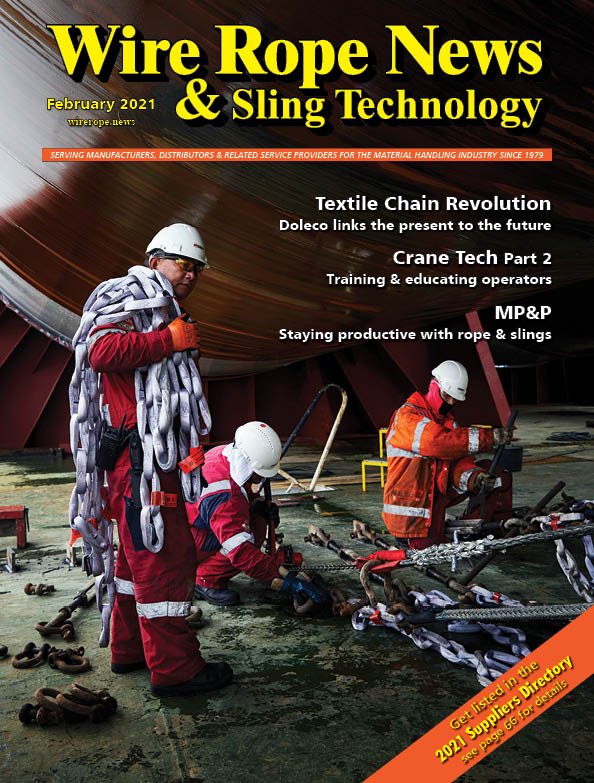 COVER PHOTO: Doleco® USA's DoNova® PowerLift Lifting Sling and PowerLash Textile Lashing Chain and Tie Down System are lightweight and offer the highest WLL available for textile chains. Photograph courtesy of Doleco.
The February 2021 issue of Wire Rope News magazine should have arrived! If you're not receiving it in the mail, subscribe!
Featured Articles:
The Textile Chain Revolution Has Begun
by Rick Ashley. Textile chain technology is changing theway professionasl approach lifting and lashing tasks.
Crane Tech: There's No Mystery to Crane Accidents
by Al Pirozzoli. Our interview with Bo Collier continues from last issue with Crane Tech's focus on educating and improving the skills of crane operators.
MP&P Depends on Wire Rope and Slings to Stay Productive
by Al Pirozzoli. Along with employing experienced people and using the latest technology, this company shows that sometimes it all comes down to the basic use of rope and slings to keep customers satisfied.
DEPARTMENTS
Supplier's Directory Information
Note from the Editor
Denny's Crane & Rigging Notes: Hoist Drum Spooling, PART III – Operating Skill Needed, it Shows!
Inventor's Corner

Crane
Running wire rope and method of manufacturing same
Comprehensive information detection system for steel wire rope
Wire back tension device
Compact winch

Products in the News

Caldwell Beams fo Schneider Electric Paint Plant
OZ Lifting Launches Wireless Builder's Hoist
ALL Material Handling, Inc. Introduces Weld-on Bucket Hooks
Columbus McKinnon Expands Intelli-Crane Portfolio with Intelli-Guide Auto-Dispatch System – Improves Productivity Through Automation
Guardian Fall Protection Unveils Leading-Edge Cable Lanyard
OZ Lifting Launches Stainless Steel Beam Clamp

People in the News

Pure Safety Group Names Dale Bartelson Senior VP of Sales and Marketing
Australia's New Lifting Representative – Steven Flint
News in Our Industry

Modulift Custom Lifting Frames Help HS2 Get Off the Ground
Rope and Sling Recruits to Engineering Services Dept.
Mazzella Companies Announces Relaunch of Website with Improved Lifting & Rigging Learning Center
Material Handling Equipment Store Launches
LiftEx and LEEA Award Plans for 2021 Announced
Rope and Sling Opens Plymouth Depot
LEEA Academy Awards Recognize Global Achievement
Steel Industry and Labor Urged Biden to Keep Steel Tariffs in Place
CM Labs Simulations Expands its U.S. Presence with Improved Accessibility to Services in Orlando, FL
Rope and Sling Completes Load Tests at Rolls-Royce
iCraneTrax now Allows Telematics Feeds to other Programs
Steel Imports Declined 21.2% in 2020
LEEA's Downloadable Guide to Brexit
The Crosby Group Launches Global Vaccine Support Program
AISI Releases December SIMA Imports Data
November Steel Shipments Down 11.9% from Nov. 2019
A1A Software Recognizes Level 3 Certificants of 3D Lift Plan
AISI Applauds Action to Strengthen Buy American Requirements for Taxpayer-Funded Projects

Puzzle Page: Word Search and Crossword Puzzle
Advertiser's Index
Classified Ads
Articles and news from past issues are posted in our blog, Facebook, and LinkedIn.