April 2021 – Wire Rope News & Sling Technology Magazine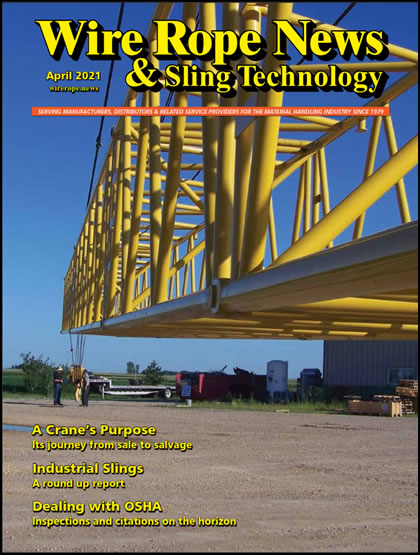 COVER PHOTO: Operators performing their start-up inspection on the 175-ton Kobelco crawler crane. Obviously, the larger the crane, the more there is to see! With heavy-lift cranes, the inspections are almost meaningless. Photograph courtesy of Dennis O'Rourke.
The April 2021 issue of Wire Rope News magazine should have arrived! If you're not receiving it in the mail, subscribe!
Featured Articles:
A Crane's Purpose: Its journey from sale to salvage
Article by Dennis O'Rourke. Lifting and moving may be the basics of crane operation, but eery user knows there is much more to it. This three-part series explains it logically.
Industrial Slings: A round up report
Article by Al Pirozzoli. The good, the bad and the beautiful fats about using the various textile sling products in today's lifting industry.
Dealing with OSHA: Inspections and citations on the horizon
Article by Phil Perry. New regulations, more inspections, and the threat of more citations are part of the new order in preventing workplace safety.
Wire Rope News Special Profile: Speed is of the Essence
A candid interview with Peter Brettner, President of All Material Handling Inc. (AMH).
DEPARTMENTS
Supplier's Directory Information
Note from the Editor
Denny's Crane & Rigging Notes:
Inventor's Corner
Products in the News
People in the News
News in Our Industry
Puzzle Page: Word Search and Crossword Puzzle
Advertiser's Index
Classified Ads
Articles and news from past issues are posted in our blog, Facebook, and LinkedIn.