April 2022 – Wire Rope News & Sling Technology Magazine
COVER PHOTO: Located on teh Warragamba River, Australia, the Warragamba Dam provides flood control and power. The cantilever intake gantry crane is parked off-road, allowing unrestricted automobile traffic. (see article Those "Dam" Cranes).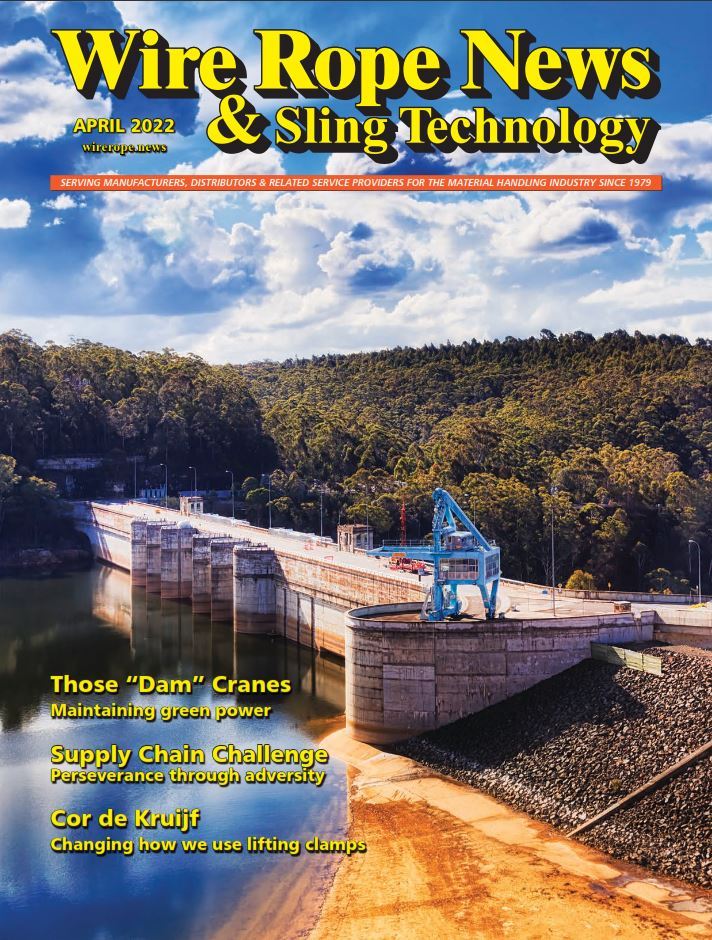 The April 2022 issue of Wire Rope News magazine should have arrived! If you're not receiving it in the mail, subscribe!
Featured Articles:
Those "Dam" Cranes
Article by Dennis J. O'Rourke, CSP, Historiographer, and Humorist.
Green electric power requires constant maintenance and monitoring of thousands of dams worldwide.
The author intends to highlight efficient and practical solutions to achieve the essential goals for American prosperity. That of
Improve our current assets,
Transition to cleaner power,
Make financially sound decisions, not just print money and further weaken our economy.
We should realize that despite a considerable investment that produces green power, our dams are under-utilized and will continue its decline. Is there nothing we can do to reverse this regretful trend? Yes, as many have said – work with nature – not try to change her!
The Supply Chain Challenge
Businesses Bolster Inventories, Woo Suppliers to Keep Customers Happy
Article by Phil M. Perry. Delivery delays can disrupt your business and cause stress amid suppliers and customers, especially in this ever-changing world environment.
The increasing demands of a rebounding economy and the breakdown in shipping patterns caused by the Russia-Ukraine war are further stressing supply chains long disrupted by the COVID-19 pandemic. Rising inflation is making matters worse, as companies place orders for more goods than usual to increase inventories before price hikes take effect. Dealing effectively with the resulting delivery delays requires better coordination with suppliers, locating backup sources, bolstering of inventories, and boosting automation. Businesses must evaluate the risks attendant with an uncertain recovery path while dealing effectively with increases in the costs of raw materials, labor, and inventory.
A Lifting Legacy
Article by The Crosby Group. This biographical outline pays honor to Cor de Kruijf, a man who forever changed the way we use lifting clamps.
Trade Show Tax Deductions
How to Cut the Costs of Travel and Lodging
Article by Phil M. Perry. Cutting the costs of travel, lodging and other expenses during a trade show can be tricky. This article has advice to control your expenses.
Spirited Q&A with Mike Gelskey "Junior" of Lift-It Manufacturing
Article by Tracy Bennett. An interview with Mike Gelsky, Junior, General Manager of Lift-It manufacturing in Pomona, CA.
DEPARTMENTS
News in Our Industry
Suppliers Directory Information
Denny's Crane & Rigging Notes
Inventor's Corner
Products in the News
People in the News
Endnotes from the Editor
Puzzle Page: Word Search and Crossword Puzzle
Classified Ads
Articles and news from past issues are posted on our blog, Facebook, and LinkedIn.