October 2021 – Wire Rope News & Sling Technology Magazine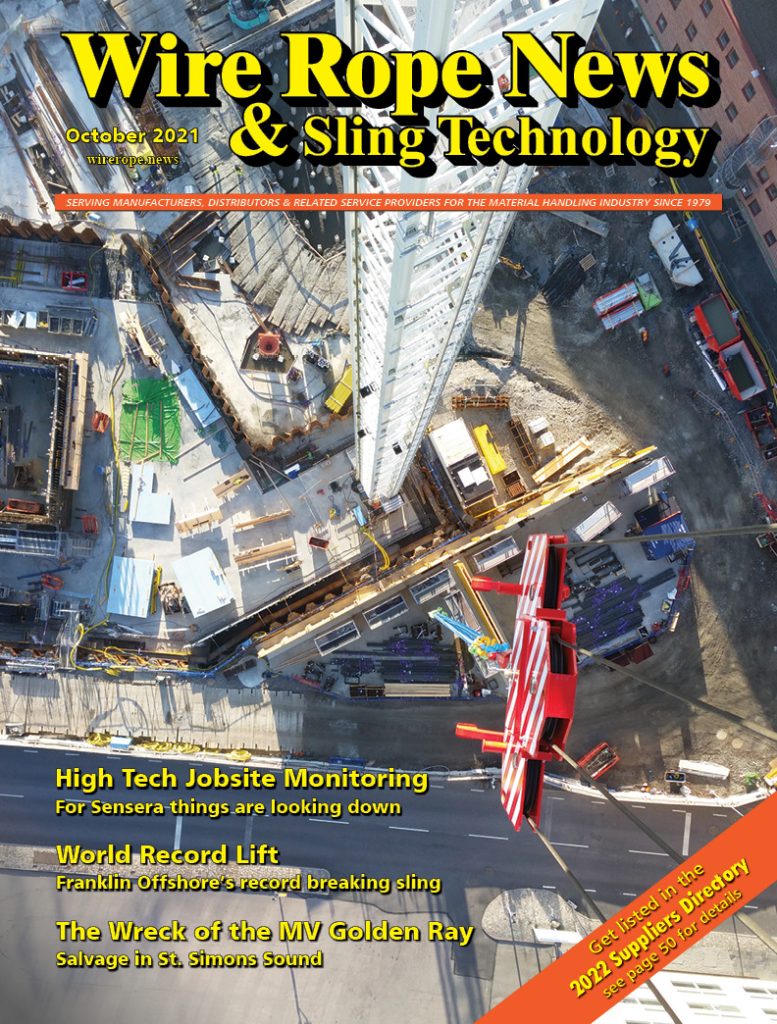 COVER PHOTO:Skanska Citygate project which will be the Nordic region's tallest office building. Photo ©Skanska, captured by Sensera Systems MC88 site cameras.
The October 2021 issue of Wire Rope News magazine should have arrived! If you're not receiving it in the mail, subscribe!
Featured Articles:
Monitoring Continues to Go High Tech
Article by Peter Hildebrandt. We take you high above the jobsite with the increasing trend toward using surveillance cameras. This tool allows contractors a rarely seen bird's eye view of progress, as well as keeping thieves at bay.
Wreck of the MV Golden Ray
Article by Dennis O'Rourke. The 800 million, two-year "big-show" is coming to an end as the MV Golden Ray vehicle transport ship is finally being removed from St. Simons Sound, GA. It flipped on its side in September 2019 carrying about 4500 cars – things went wrong in a hurry.
Record-Breaking Slings for Record-Breaking Heavy Lift
Article by David Glennie. Franklin Offshore Europe BV, based in Rotterdam in The Netherlands, has broken all previous records with the MERLION TR King Cobra cable-laid grommet sling.
DEPARTMENTS
Company Spotlight
News in Our Industry
Denny's Crane & Rigging Notes
Inventor's Corner
Products in the News
People in the News
Endnotes from the Editor
Puzzle Page: Word Search and Crossword Puzzle
Classified Ads
Articles and news from past issues are posted on our blog, Facebook, and LinkedIn.