June 2022 – Wire Rope News & Sling Technology Magazine
COVER PHOTO: Beautiful view of a 30-ton gantry at the pumping station on Lake Jocassee's lower reservoir The insert is the 400-ton turbine gantry at the Jocassee Earthen Dam's 830 MW generating/pumped storage plant, part of the Keowee-Toxaway Hydro Electric project in South Carolina.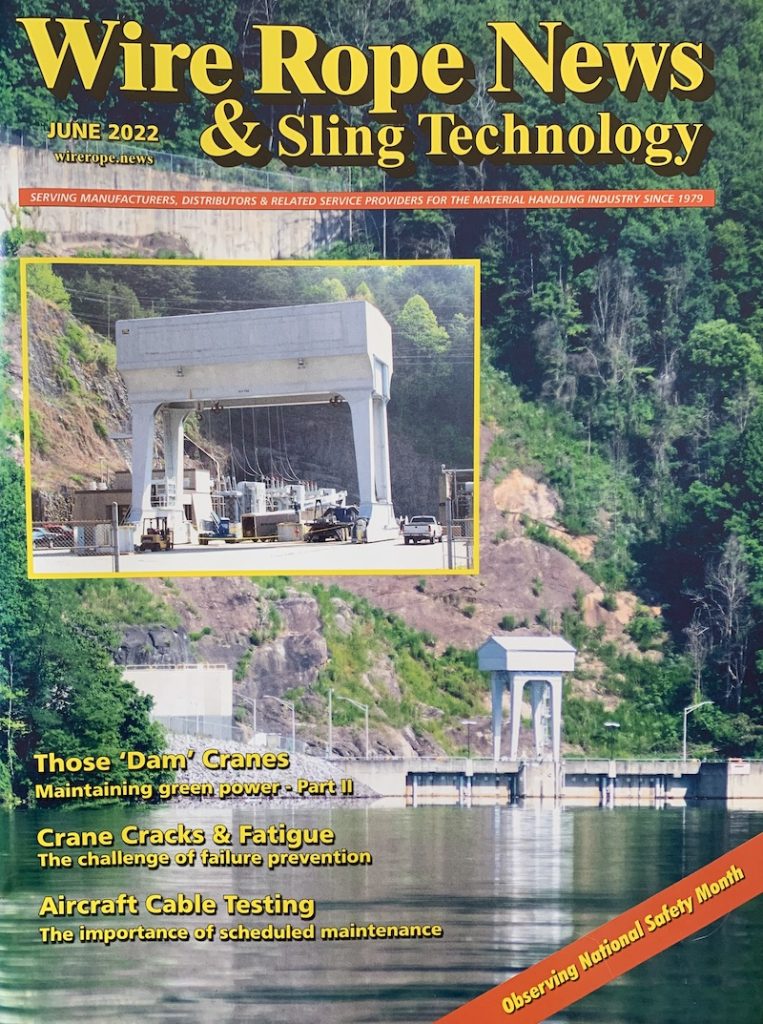 The June 2022 issue of Wire Rope News magazine should have arrived! If you're not receiving it in the mail, subscribe!
Featured Articles:
Those "Dam" Cranes: PART II
Article by Dennis J. O'Rourke, CSP, Historiographer, and Humorist.
Discussions center on the maintenance workhorse, the turbine bay cranes that do the heavy lifting during generation overhauls and other cranes used inside the powerhouse.
The heart-pumping blood of the hydroelectric plant is the turbine floor: years back, covered n red ceramic tile – end to end, side to side. Later, in gloss-painted dark red. Daily, all floors kept waxed and buffed, indicating the royal status and entry to the seat of Power! Those privileged to access the Control Room via the red floors could feel the very pulse of energy. Lately, hydro has lost its luster. It is reflected, I believe, in diminished floor care!
Crane Cracks & Fatique
Article by Richard Phillips. The tendency to push cranes beyond their capacity, and for much longer than they were designed, is a recipe for disaster.
'Plane' Truth About Cable Care
Article by Peter Hildebrant. When small commercial aircraft crash unexpectedly, and without recourse to safely land, it's time to take a new look at maintenance scheduling.
At the Bottom of the Broken Line
Article by Wilbert A. Lucht. This reprint article from our June 1989 issue shows how things haven't really changed much in proper choice and use of wire rope, as well as keeping them properly maintained.
DEPARTMENTS
News in Our Industry
Denny's Crane & Rigging Notes
Inventor's Corner
Products in the News
People in the News
Puzzle Page: Word Search and Crossword Puzzle
Classified Ads
Articles and news from past issues are posted on our blog, Facebook, and LinkedIn.