The Caldwell Group Inc. continues to market its range of German-manufactured RUD products, including the ACP-Turnado smart lifting point. Rockford, Illinois-based Caldwell and the RUD Group unite their sales and marketing activities in North America for material handling and lifting devices within a common organization.

With its unique spring mechanism, the ACP-Turnado ensures greater safety by automatically rotating in the direction of force transmission and by actively preventing a hazardous stoppage of the ring. It eliminates the risk of a sudden release of the ring from this position in the direction of force and the resulting jerky dropping of the load, which endangers the load, load handling equipment and crane system.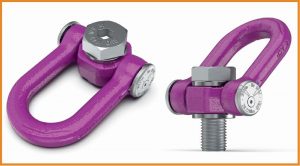 Features include smart design with automatic optimization; higher working load limits (WLL) than hoist rings of comparable sizes; maximum transmission of force in all possible directions; no kinking; and radio-frequency identification (RFID), as standard.
Jay Schroeder, who oversees sales for RUD, Caldwell and Renfroe products in the eastern half of the U.S. and Canada, said: "RUD realizes that everyone has unique lifting requirements. We try to fill as many holes as we can to help the end user." All RUD products are made to DIN, BG and EN standards.

Contact: Jay Schroeder | jay.schroeder@caldwellinc.com | caldwellinc.com
Be in the Company Spotlight!
Contact us to learn the benefits of shining the light on your products and services: info@wireropenews.com