Caldwell Provides Beam for Balancing Rolls
The Caldwell Group has provided a 1,500-lb. capacity roll lifting beam and leveling system for a company that manufactures various types of hygienic wipes. A major advantage is that one operator can now complete the application instead of two.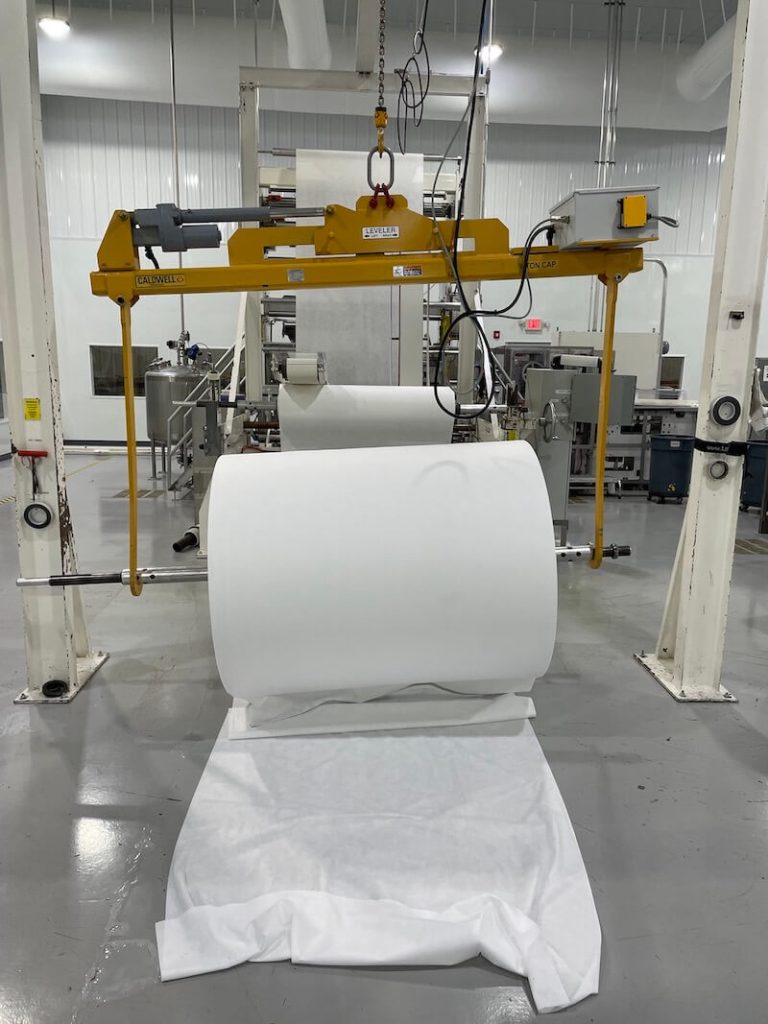 The beam, which is 86 in. between the j-style hooks and 95.75 in. from end-to-end, is designed for unbalanced loads. In the end user's application, it is common for a roll to be slightly off-center and the operator would previously have to handle the load or below-the-hook equipment to straighten it.
These substrate rolls must be lifted into place during an important phase of the production process. The method employed by this end user is unique, not because of its utilization of the beam, but in its incorporation of Caldwell's load leveler product. The concept, which balances the roll before a worker performs the next operation, is operated by two pendant push-buttons.
Caldwell was initially given the nature of the material handling problem, in addition to the weight, width, height of rolls, and distance between the cradle support. Based on this, it was decided that a combination roll lifting beam and leveler would best suit the user's requirements. The attachment works beneath the hook of Harrington Hoists' equipment, to which it is attached by a hook and latch system. The lifter's bottom hooks are not designed for side-loading, but they can pivot laterally. These j-hooks extend approx. 50 in. in length and are designed to handle a specific mandrel diameter.
Darrin Noe, director of sales at Caldwell, said: "A red / green indicator light notifies the operator that the leveler has engaged and which direction the bail is adjusting to accommodate for the load's center of gravity location. The leveler can be used to adjust the lifter bail as needed to find the center of gravity. Once the leveler indicates a level lift, the operator can continue to move, rotate, and position the load as needed."
Caldwell's leveler, originally used strictly for the Posi-Turner product, is now used in multiple applications where it is beneficial to have a control system that senses when a load is out of level and automatically activates the leveling adjustment on the lifter to level the load. Besides added speed and efficiency, the leveling option brings added safety to many types of lifting requirements by allowing the operator to stand a safe distance from the suspended load."
more information about The Caldwell Group on www.caldwellinc.com