August 2021 – Wire Rope News & Sling Technology Magazine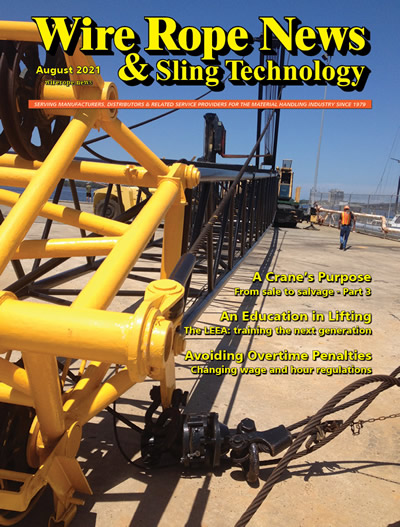 COVER PHOTO: Being properly certified, set up, and rigged, this 300-ton Link-Belt truck crane is prepared to serve its "purpose" for the lifting required at a Gulf of Mexico port.
The August 2021 issue of Wire Rope News magazine should have arrived! If you're not receiving it in the mail, subscribe!
Featured Articles:
An Education in Lifting
Article by Peter Hildebrandt. The LEEA is committed to instilling interest and wonder in the world of lifting by raising awareness of the virtually unlimited career opportunities in this industry.
A Crane's Purpose Part 3
Article by Dennis O'Rourke. The conclusion of this series takes us through the four possible occurrences that can happen when the operator proceeds with the hoisting.
Avoiding Overtime Penalties: Employers Grapple with Changing Wage and Hour Regulations
Article by Phillip M. Perry. As new salary and work hour regulations are implemented in the American workplace, employers need to find their way through the costly overtime penalties.
DEPARTMENTS
News in Our Industry
Company Spotlight
Industry at a Glance
Denny's Crane & Rigging Notes
Inventor's Corner
Products in the News
People in the News
Endnotes from the Editor
Puzzle Page: Word Search and Crossword Puzzle
Classified Ads
Articles and news from past issues are posted on our blog, Facebook, and LinkedIn.