August 2022 – Wire Rope News & Sling Technology Magazine
COVER PHOTO: Night view of harbor cranes in Hamburg, Germany. This beautiful picture was taken in 2011 by Robert Mandel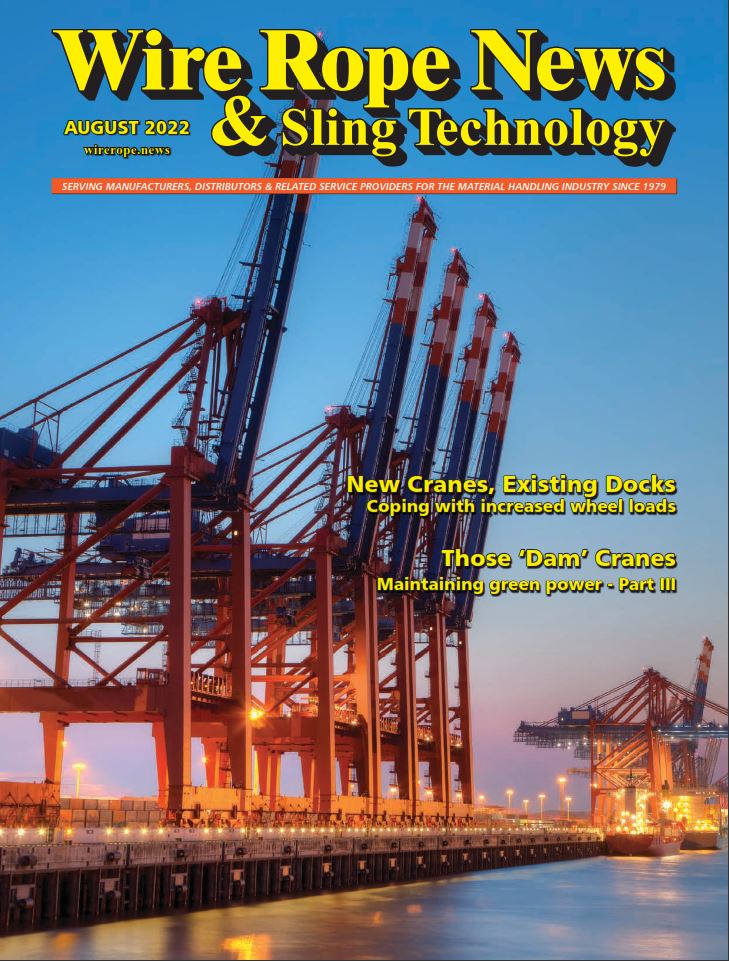 The August 2022 issue of Wire Rope News magazine should have arrived! If you're not receiving it in the mail, subscribe!
Featured Articles:
New Cranes and Existing Docks
Article by Richard Phillips
The container cranes are getting larger ad the loads getting heavier, but the docks they sit on aren't changing … the challenge is on.
Those 'Dam' Cranes: Part III
Article by Dennis J. O'Rourke. This final installment focuses on maintaining the complex equipment and cranes that keep the powerhouses churning our 'watts', and the necessary workforce skills and training to get the job done..
Winning the War for Workers
Article by Phillip M. Perry. Finding and keeping employees is the challenge in today's business environment. The author discusses a modern approach to recruitment tactics.
Special WRN Profile
Article by Greg Smith. Colleagues give a fitting tribute to John Embray, and his accomplished career, as he ventures onward to new horizons.
DEPARTMENTS
News in Our Industry
Denny's Crane & Rigging Notes
Inventor's Corner
Products in the News
People in the News
Puzzle Page: Word Search and Crossword Puzzle
Classified Ads
Articles and news from past issues are posted on our blog, Facebook, and LinkedIn.