February 2022 – Wire Rope News & Sling Technology Magazine
COVER PHOTO: A new 150-ton Gottwald barge-mounted gantry crane is being tested to 110% at a Norfork port in Virginia, using a water-filled test tank, as required by OSHA Maritime certification's regulations.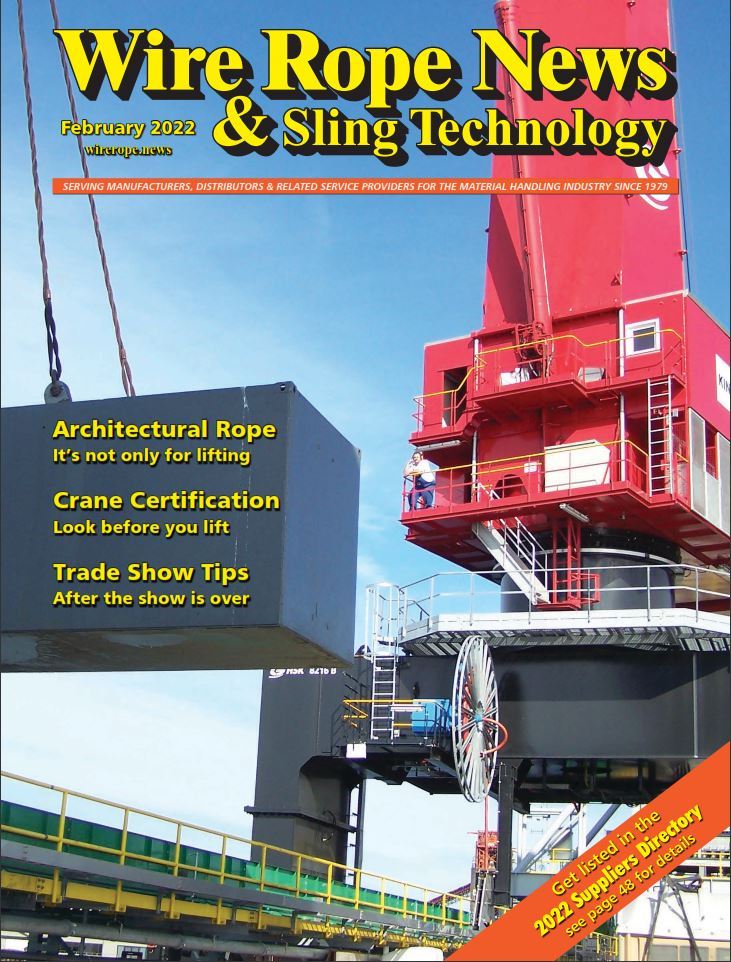 The February 2022 issue of Wire Rope News magazine should have arrived! If you're not receiving it in the mail, subscribe!
Featured Articles:
Architectural Wire Rope
Article by Peter Hildebrandt. Johnson Architectural and DécorCable are just two of the many companies that see the aesthetic applications to wire rope … an industrial material not solely meant for hoisting.
Certifying Equipment That Can Hurt People
Article by Dennis J. O'Rourke. Cranes, though far more advanced than they've ever been, are still subject to misuse and failure. Getting these giant machines certified is a no-brainer when it comes to operating them safely.
Smart Trade Show Follow-Through
Trade Show Tips – After the show is over
Article by Phillip Perry. You've set up your booth; you handed out your brochures; you shook hands and made new contacts … so, now that the show is over, what do you do? We offer up some advice.
DEPARTMENTS
News in Our Industry
Suppliers Directory Information
Denny's Crane & Rigging Notes
Inventor's Corner
Products in the News
People in the News
Endnotes from the Editor
Puzzle Page: Word Search and Crossword Puzzle
Classified Ads
Articles and news from past issues are posted on our blog, Facebook, and LinkedIn.