December 2022 – Wire Rope News & Sling Technology Magazine
COVER PHOTO: A sense of relief after the last piece of grating is placed. As the deck was being laid simultaneously from opposite sides toward the middle, it was thought the final centerpiece would need to be adjusted to fit the remaining space. In the end, a standard piece was used, as all calculations and installations were more accurate than expected. (Photograph courtesy of Taros Nova)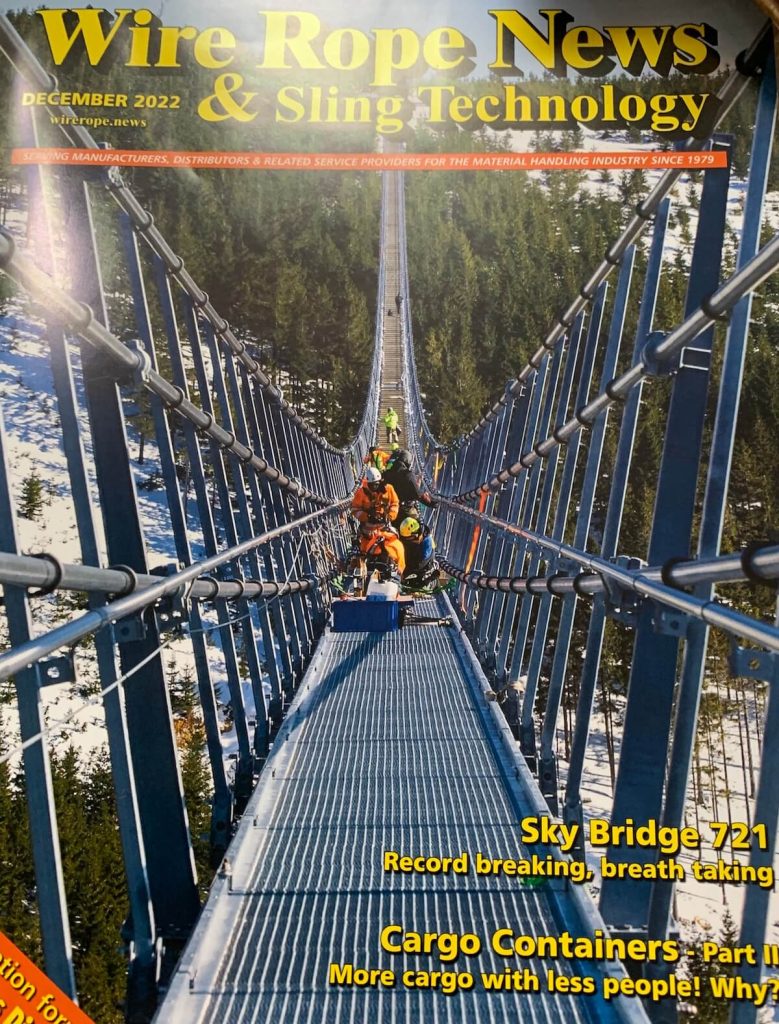 The December 2022 issue of Wire Rope News magazine should have arrived! If you're not receiving it in the mail, subscribe!
Featured Articles:
Record Breaking High Wire Act
Article by Al Pirozzoli
Technology for building a bigger and better pedestrian footbridge is advancing in leaps and bounds. Currently, the world's longest is Sky Bridge 721 in the Czech Republic. It is a new marvel of engineering and construction.
Cargo Containers Part II: People Move Containers!
Article by Dennis J. O'Rourke. Millions of tons of cargo are being shipped worldwide daily by drivers, operators, riggers, and lashers. New labor-saving equipment has reduced the numbers of their ranks by three-quarters. With robots and automatic equipment in the planning, future reductions are expected.
Forecast 2023
Article by Phillip M. Perry. A cautionary look ahead to next year's economy, through prudent measures, can smooth the bumps in the road until things pick up again.
DEPARTMENTS
News in Our Industry
Denny's Crane & Rigging Notes: Synthetic Sling Safety
Inventor's Corner:

Anchor Assembly
Helical Toothed Rope
Method and Device for Producing Rope
Method for Producing a Wire Cable
Running wire rope and method of manufacturing same
Wire rope and resin wire, resin wire winding die, and method for producing wire rope with resin wire

Products in the News
People in the News
Puzzle Page: Word Search and Crossword Puzzle
Classified Ads
Articles and news from past issues are posted on our blog, Facebook, and LinkedIn.