Crosby LoadConnect Monitoring Loads Anywhere in the World
Crosby Straightpoint's LoadConnect cloud-based software is now available from global channel partners.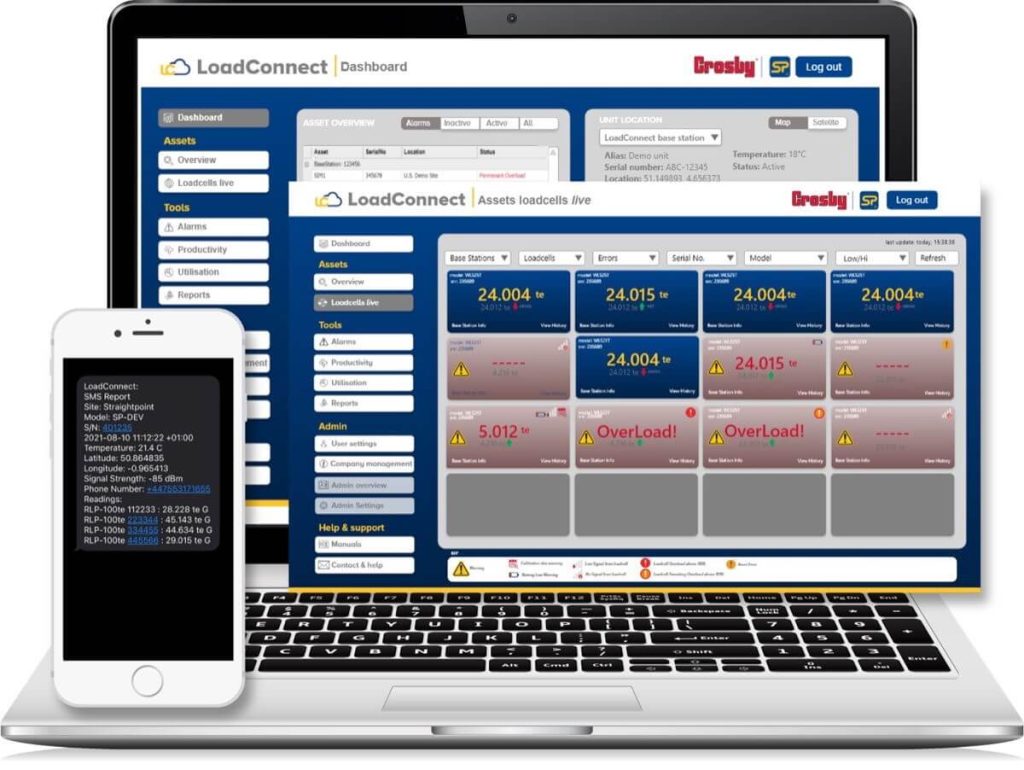 The Crosby Group announced the launch of the Crosby Straightpoint LoadConnect cloud-based software in the Spring of 2023. The software can monitor loads from any distance and from anywhere around the world to improve safety and efficiency at work sites.
When connected to a wireless base station, load cell data is transmitted to the unique cloud software solution, LoadConnect. This unique online dashboard provides users with fast, real-time load data, monitors errors and status, and has a map pinpointing exact product locations. It also provides an overview of productivity and utilization.
Users can also access more in-depth statistics, historical readings, and view analytics via the dashboard, as well as schedule reports directly to any chosen email. This will reduce site visits, improve decision making, and safely monitor loads and line tensions from any distance or location.
Each base station can connect from up to 16 Crosby Straightpoint wireless load cells, with an option of one cabled load cell, which transmit data to the LoadConnect dashboard via a chosen network or nearby WiFi. When connected via a network, LoadConnect also has the option to send data to a user's mobile phone.
This software is compatible with Crosby's most popular wireless product, the Radiolink Plus, in addition to the Loadshackle (also tensile) and LoadSafe (compression), and LoadConnect complements the Crosby Straightpoint brand's newest product, BOLT (Bolt On Line Tensiometer), a lightweight wire rope tensiometer or shunt tensiometer, for fast and accurate measurement of tensions up to 20,000 lbs. (10,000 kg), and up to 1.25 in. (32mm) diameter. BOLT is designed for permanent installation, hence its suitability with LoadConnect.
Thomas Dietvorst, Director of Technology Solutions, said: "This is a ground-breaking software solution, whereby you will be able to monitor loads from any distance from anywhere around the world. LoadConnect will prove to be a game-changer for anyone using our wireless load cell range in industries such as telecommunications and bridge nets, eliminating the need for personnel to regularly visit remote locations to check line and wire tension. There are also many use cases the construction sector and other industries where similar projects are common, such as ship building to monitor weight as loads are applied and nuclear power plants to prevent catastrophe."
Where BOLT is different to Crosby Straightpoint's COLT (Clamp On Line Tensiometer) is that it can be left in a permanent position and connect to the HHP handheld reader and/or LoadConnect software. The BOLT has a single wire rope range that is optimized for permanent installation applications. Customers needing a broader application base can still use the COLT which transmits tension data wirelessly to any smart device running the Android or iOS app that contains an infinite wire rope library.
Dietvorst added: "The two products are each as important to our portfolio as the other and, with LoadConnect's characteristics aligning so well with BOLT, the hardware and software will likely be used together in many instances. There are a multitude of applications where remote monitoring is desirable, especially where defective wire rope and repairs can be alerted and effected quickly and efficiently, without in-person inspection."
BOLT is manufactured using an integral, high accuracy, wireless module—weighing just 2.1kg/4.6lbs and measures 259mm/10.2" by 159.1mm/6.26". Constructed from aerospace-grade aluminium, the BOLT is lightweight, easy to handle, and operates on wires that are already under tension. Once installed it enables the operator to quickly check tension on cables or wire ropes set at any angle.
More information on TheCrosbyGroup.com and the Crosby StraightPoint site https://www.straightpoint.com/loadconnect-online-software.html