Aug 2023 – Wire Rope News & Sling Technology Magazine
COVER PHOTO: A Thackray Crane puts the finishing touches on the record 12-day temporary roadway after the collapse of this I-95 overpass due to a truck fire. Photograph courtesy of Thackray Crane Rental, Inc.
The August 2023 issue of Wire Rope News magazine should have arrived! If you're not receiving it in the mail, subscribe!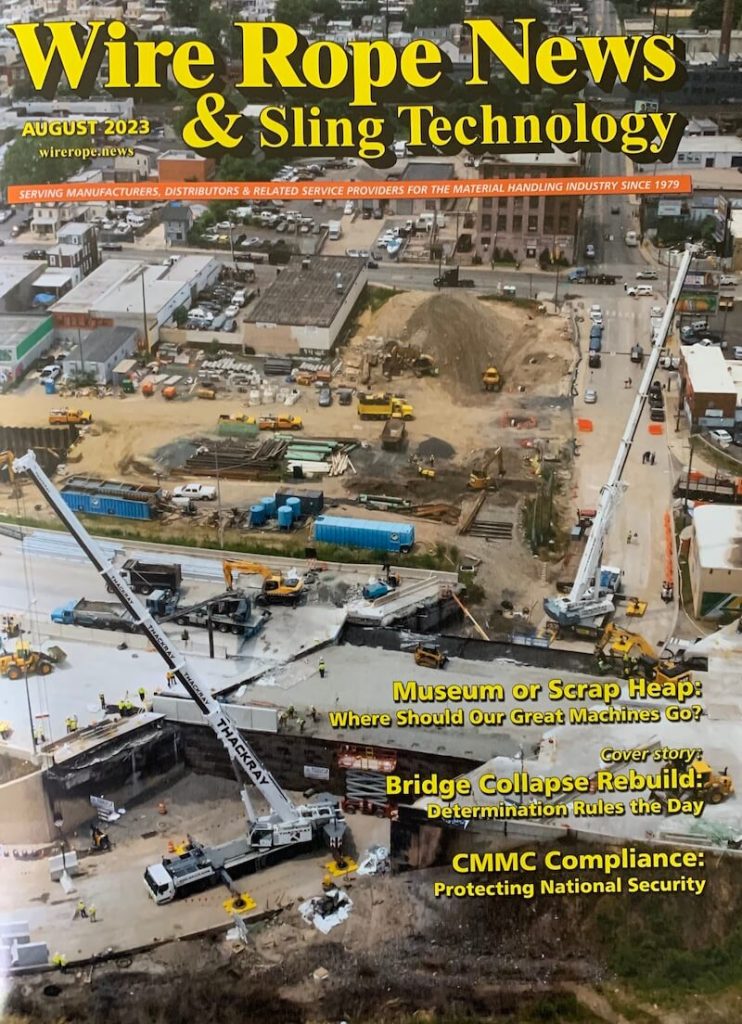 Featured Articles:
Bridge Collapse Rebuild: Determination Rules the Day
"I-95 Bridge Collapse Brings Fast Construction Rebuild" article by Peter Hildebrant.
A record rebuild of a collapsed interstate overpass shows determination to keep a nation's population and commerce on the move.
When a fuel truck recently crashed into a newly-renovated I-95 interchange in Philadelphia, morning traffic stopped. In a summer filled with news of ongoing fires in Canada and extreme New England flooding, grim predictions of a six-month halt to traffic fit with other calamities of early summer, 2023. But – just as it always does – the 24-hour news cycle moved on. Then, 12 days later the news of that same highway opening back up to traffic felt surreal. As one German newspaper – a country known for having some of the world's greatest highways – called it, "Ein Kleines Wunder." (read the full article in the magazine)
Museum or Scrap Heap: Where Should Our Great Machines Go?
"Past Glory, to a Museum or the Scrap Pile?" article by Dennis J. O'Rourke, CSP, Historiographer, OSHA Part 1919 Maritime Surveyor
Equipment that is slated for the scrap heap leaves a controversial question of whether we are making the right move or not.
It costs about seventy-five percent less to manufacture new steel from recycling scrap than from mined ore – with much less pollution. This savings motivates owners to demolish bridges, buildings, and, alas, cranes. Unless preserved for some historical reason, they succumb to a humiliating demise. Witnessing the brutal, uncaring, and helter-skelter demolition of a once meticulously designed and assembled productive 'agents of wealth' is heart-wrenching to their creators. Are we throwing away what we have and being wasteful, or are these decisions based on economic practicality? (read the full article in the magazine)
CMMC Compliance: Protecting National Security
"The Road to CMMC Compliance" article by Phillip M. Perry
Vendors selling to the Department of Defense (DoD) are facing a critical 2025 deadline. They will need to ensure that their security procedures comply with the requirements of a uniform set of standards designed to protect national security. (read the full article in the magazine)
CP&A's Seismic Upgrade Concept for Ship-to-Shore Cranes
Article by Richard Phillips, Mechanical Engineer, Casper, Phillips & Associates Inc
Casper, Phillips & Associates Inc. talks about retrofitting its crane base anti-seismic isolation system (BASIS) on ship-to-shore gantry cranes. (read the full article in the magazine)
DEPARTMENTS
News in Our Industry
Denny's Crane & Rigging Notes – Righting the USS Oklahoma
Inventor's Corner:

Wire rope, sheave and drum
Wireline cable head with weak link including shock absorber
Cable system for attaching cables between two structures
Wire rope hoist limiter
Winch-pulley drive system for solar tracker

Products in the News
People in the News
Puzzle Page: Word Search and Crossword Puzzle
Classified Ads
Articles and news from past issues are posted on our blog, Facebook, and LinkedIn.