December 2021 – Wire Rope News & Sling Technology Magazine
COVER PHOTO: Dennis O'Rourke is standing on top of #14a, 3.2 MW Wind Turbine part of a power utility park built in New Hampshire. A view of the winding roadway built on the peaks, necessary for construction, is visible.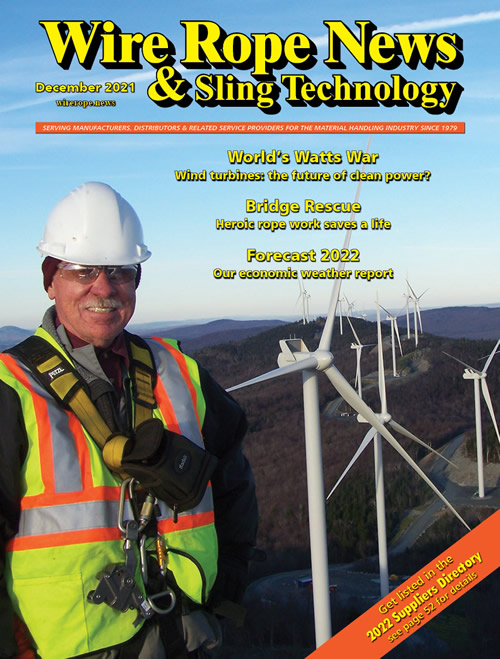 The October 2021 issue of Wire Rope News magazine should have arrived! If you're not receiving it in the mail, subscribe!
Featured Articles:
World's Watts War
Article by Dennis O'Rourke. Climate change hysteria has the World's citizens near panic, wanting governments to do something, even if it is wrong or controversial! Many practical solutions exist. Will humankind choose wisely?
Once-in-a-Lifetime Bridge Rescue
Article by Peter Hildebrant. A daring rescue of a truck driver as his semi cab dangled precariously off Virginia's G.A. Treakle Memorial Bridge after hazardous storm winds blew him off course.
Forecast 2022
Article by Phillip Perry. The author gives us an educated estimate of what the coming year looks like for the economy. How might the construction and material handling industries fare after weathering the storm?.
DEPARTMENTS
News in Our Industry
Denny's Crane & Rigging Notes
Inventor's Corner
Suppliers Directory Information
Products in the News
People in the News
Endnotes from the Editor
Puzzle Page: Word Search and Crossword Puzzle
Classified Ads
Articles and news from past issues are posted on our blog, Facebook, and LinkedIn.